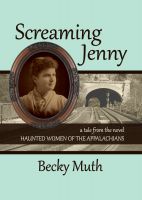 Screaming Jenny By Becky Muth
This short novel is one of 13 that belong to a larger work titled HAUNTED WOMEN OF THE APPALACHIANS. Vanessa and Nick are on train en route to the nation's capital is stalled in the historic town located within Harpers Ferry National Park. Will a poignant message from the past help put the newlyweds' future on less shaky ground, or are they doomed for disaster?
Note
: At the time of posting,
Screaming Jenny
is
FREE on Smashwords
.
My Review
: Venessa is tired of Nick's gaming. Just once, she'd like to have his undivided attention. Resentment simmers as they barrel toward their vacation destination. When their train makes an unexpected stop, they become captivated by a tale from the past.
This is an excellent story written by a natural born story-teller. It's a well-written, spooky ghost story with a surprise twist at the end. Definitely worth reading!
My Rating
: 5 out of 5 stars